Please stop in to the store to see & try out many more models available there. We have something that will fit your sewing needs perfectly!
And remember!... Lifetime lessons on your machine purchased from Millcreek Sewing & Fabric.
BABY LOCK SOLARIS UPGRADE 2
Out of Stock
BRILLIANT SEWING MACHINE

This is a super versatile machine that can meet all of your sewing & quilting needs.


SALE:
$ 1,799.99

$ 899.00





CELEBRATE SERGER

Step up to great features in this 4 thread serger. Jet air threading, differential feed, & an easy to use needle threader to name a few.


SALE:
$ 2,499.00

$ 999.00





NEW Magnetic Sash Frame 8" x 14" Hoop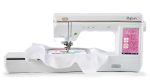 PATHFINDER EMBROIDERY ONLY MACHINE

Single needle embroidery only machine.


SALE:
$ 6,499.00

$ 3,999.00





ALLIANCE SINGLE NEEDLE, FREE ARM EMBROIDERY MACHINE

Wonderful machine to make all those hard to hoop items like pant legs, totes & hats.


SALE:
$ 6,999.00

$ 4,999.00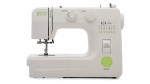 BABYLOCK ZEST

Known for it's portability & simplicity this is the perfect machine for a beginner or youngster.


FLOURISH II EMBROIDERY ONLY MACHINE

Embroidery only machine. Great addition to your sewing studio!


SALE:
$ 3,499.00

$ 1,499.00





JAZZ II SEWING MACHINE

A real workhorse!! If you're looking for a high speed machine & a huge throat space Jazz is playing your song!


SALE:
$ 1,299.00

$ 699.00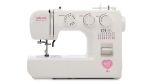 JOY SEWING MACHINE

A mechanical machine perfect for the new sewer or someone who wants a machine with just the "basics".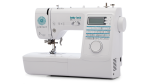 JUBILANT SEWING MACHINE

Lots of great features & stitches make this an all around great machine for beginners or advanced sewers.


PRESTO II SEWING & QUILTING MACHINE

An all around great machine, it might not have ALL the fancy features of it's sisters but she gets the job done!


SALE:
$ 1,299.00

$ 599.00





VERVE SEWING & EMBROIDERY MACHINE

Are you wanting to test the embroidery waters? Verve is for you! Compact yet powerful, and a great travel machine for all you snow birds!


SALE:
$ 1,299.00

$ 699.00





VIBRANT 4/3/2 SERGER

Your intro to sergers. Makes garment construction & home dec a breeze!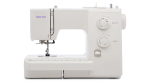 ZEAL SEWING MACHINE

An easy to use machine for the home sewer!