Please stop in to the store to see & try out many more models available there. We have something that will fit your sewing needs perfectly!
And remember!... Lifetime lessons on your machine purchased from Millcreek Sewing & Fabric.
BRILLIANT SEWING MACHINE

This is a super versatile machine that can meet all of your sewing & quilting needs.



Out of Stock
CELEBRATE SERGER

Step up to great features in this 4 thread serger. Jet air threading, differential feed, & an easy to use needle threader to name a few.


SALE:
$ 2,499.00

$ 999.00





GALLANT LONG ARM WITH VILLA FRAME

Long arm quilting machine with tons of features!



Out of Stock
NEW Magnetic Sash Frame 8" x 14" Hoop
Out of Stock
PATHFINDER EMBROIDERY ONLY MACHINE

Baby Lock machines come with features that make sewing easy no matter what you want to create. These innovative features powered by Baby Lock IQ™ Technology, work with the "brain" of your machine to achieve the results you desire.



Out of Stock
BABY LOCK ALLIANCE SINGLE NEEDLE, FREE ARM EMBROIDERY MACHINE

Wonderful machine to make all those hard to hoop items like pant legs, totes & hats.



Out of Stock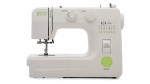 BABYLOCK ZEST

Known for it's portability & simplicity this is the perfect machine for a beginner or youngster.


FLOURISH II EMBROIDERY ONLY MACHINE

Embroidery only machine. Great addition to your sewing studio!


SALE:
$ 3,499.00

$ 1,499.00





JAZZ II SEWING MACHINE

A real workhorse!! If you're looking for a high speed machine & a huge throat space Jazz is playing your song!



Out of Stock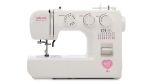 JOY SEWING MACHINE

A mechanical machine perfect for the new sewer or someone who wants a machine with just the "basics".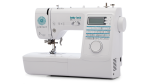 JUBILANT SEWING MACHINE

Lots of great features & stitches make this an all around great machine for beginners or advanced sewers.



Out of Stock
PRESTO II SEWING & QUILTING MACHINE

An all around great machine, it might not have ALL the fancy features of it's sisters but she gets the job done!



Out of Stock
VERVE SEWING & EMBROIDERY MACHINE

Are you wanting to test the embroidery waters? Verve is for you! Compact yet powerful, and a great travel machine for all you snow birds!


SALE:
$ 1,299.00

$ 799.00





VIBRANT 4/3/2 SERGER

Your intro to sergers. Makes garment construction & home dec a breeze!



Out of Stock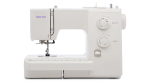 ZEAL SEWING MACHINE

An easy to use machine for the home sewer!



Out of Stock