ALLIANCE SINGLE NEEDLE, FREE ARM EMBROIDERY MACHINE

Wonderful machine to make all those hard to hoop items like pant legs, totes & hats.


SALE

$ 6,999.00 $ 4,999.00
Quantity:






FLOURISH II EMBROIDERY ONLY MACHINE

Embroidery only machine. Great addition to your sewing studio!


SALE

$ 3,499.00 $ 1,499.00
Quantity: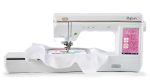 PATHFINDER EMBROIDERY ONLY MACHINE

Single needle embroidery only machine.


SALE

$ 6,499.00 $ 3,999.00
Quantity: