BOO TABLE TOP DISPLAY

BOO Table Top Display



Out of Stock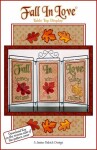 FALL IN LOVE MINI TABLE TOP DISPLAY

Autumn table top display


FUN IN THE SUN TABLE TOP DISPLAY

Just in time for the hazy hot days of summer.


HELLO SPRING WALL HANGING

A quick & easy hanging for your door.


I LOVE YOU

Valentine's Day or whenever you want to show a 'lil love!


IN A GARDEN WALL HANGING

The love of gardening is a seed once sown that never dies.


IT'S SUMMERTIME!

Celebrate summer with this sunshiney wallhanging.


LIFE IS BETTER WITH A CAT TABLE TOP DISPLAY

Is there a cat lover in your life? You need to gift them this!


LIVE LOVE LAUGH TABLE TOP DISPLAY

Embroidered applique triple design for your table.



Out of Stock
SOAK YOUR TROUBLES AWAY TABLE TOP

Soak Your Troubles Away Wall Hanging/Table Top Display


SWEET LAND OF LIBERTY

'Liberty Enlightening the World' was a gift of friendship from the people of France.


USA TABLE TOP DISPLAY

Hurray for the red, white, & blue!