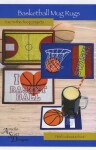 BASKETBALL MUG RUGS

EMB BASKETBALL MUG RUGS


BLOOMING BAGS

In the hoop embroidered purse, yes! even the zipper!! Perfect for tablets, mobile phones & more.



Out of Stock
GRATEFUL HEART WALLHANGING

Count your many blessings, count them one by one!


KIMBERBELL EMBROIDER BY NUMBER AUTUMN COLLECTION

Seasonal small embroidered projects.


KITE QUILT (QUILT IN THE HOOP)

EMB KITE QUILT (QUILT IN THE HOOP)


MORE PIN CUSHIONS

Embroidered & appliqued pin cushions.


PICKLE PIE BETTY BOXES

In the hoop machine embroidery.


PICKLE PIE ZIPPY CORK BAGS

Quick in the hoop bags utilizing cork fabric accents.


SWEET LAND OF LIBERTY

'Liberty Enlightening the World' was a gift of friendship from the people of France.


SWEET STITCHES BOOK & DESIGN CD

Boutique-style machine embroidery for the little onesin your life.