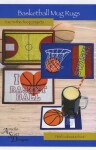 BASKETBALL MUG RUGS

EMB BASKETBALL MUG RUGS


BLOOMING BAGS

In the hoop embroidered purse, yes! even the zipper!! Perfect for tablets, mobile phones & more.


KIMBERBELL BENCH BUDDIES SEPT- DEC

Seasonal Kimberbell design to coordinate with bench pillows.



Out of Stock
KIMBERBELL EMBROIDER BY NUMBER AUTUMN COLLECTION

Seasonal small embroidered projects.


KITE QUILT (QUILT IN THE HOOP)

EMB KITE QUILT (QUILT IN THE HOOP)


MORE PIN CUSHIONS

Embroidered & appliqued pin cushions.


SWEET LAND OF LIBERTY

'Liberty Enlightening the World' was a gift of friendship from the people of France.


USA TABLE TOP DISPLAY

Hurray for the red, white, & blue!