6 PACK FLORAL TEAL

Beautiful Jacobean style flowers used with the versatile 6 pack pattern.


APPLE PIE TWIN QUILT

Twin size


BACK HOME FOR THE HOLIDAYS 6 PACK

The perfect quilt to cuddle up with on Christmas eve.



Out of Stock
BEAUTY IN BLOOM 6 PACK

Studio E Fabrics, Blooming Beauty line used with the versatile 6 Pack pattern.


BOHO BLOOMS 6 PACK

Adorable quilt for your little girl from the oh so cute Boho Blooms line.


CHRISTMAS SEMINOLE RUNNER

Table runner with seminole piecing


FLIPPING OUT BAG KIT

Red, white & black gadget bag, or wine gift bag etc.


FOREST DANCE WALLHANGING

Beautiful birds for late summer or fall.



Out of Stock
FROSTY FRIENDS WALLHANGING

A fun, pieced wallhanging or table topper.


FUNDAMENTALS & DOTS

Fat quarter lap quilt, digitally printed.


GARDEN GNOME PILLOW KIT

A cute pillow so you can hang with your gnomies!!


GIFTS FROM SANTA LAP QUILT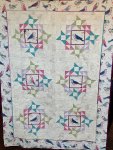 NESTING

50 1/2" X 70" Includes Pattern, Bonus Pattern & Binding


ON POINTE 6 PACK

Dear Stella's On Pointe fabrics used with the versatile 6 Pack pattern.


PANSY PARTY THROW

Hand dyed batiks.


PUMPKIN STACK TABLERUNNER

Fun little table runner.


QUILTSMART MIDI BAG FUN PACK

Simple technique great bag!


RODEO ROUNDUP CHILD'S QUILT

Child's small quilt



SANTA 4 CORNERS APRON KIT & PATTERN

Be ready to entertain this Holiday season! Santa's in the kitchen!!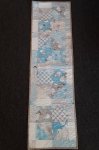 SNOW VALLEY HEARTS RUNNER

Sweet table runner with bonus pattern book & binding included.


TWILIGHT 6 PACK

Moda's Twilight line, used with the versatile 6 Pack pattern.


UNICORNIA-"SAPPHIRE" APPLIQUE

Fusible Applique


WANDERINGS BLUSH BABY QUILT

Softly colored panel quilt for baby.



Out of Stock
WOODLAND HAVEN FLANNEL 6 PACK

Henry Glass Fabrics, Flannel Woodland Haven line used with the versatile 6 Pack pattern.