APPLE PIE TWIN QUILT

Twin size


BEAUTY IN BLOOM 6 PACK

Studio E Fabrics, Blooming Beauty line used with the versatile 6 Pack pattern.


FUNDAMENTALS & DOTS

Fat quarter lap quilt, digitally printed.


HUMMINGBIRD LANE 6 PACK

In the Beginning Fabrics, Hummingbird Lane used with the versatile 6 pack pattern. Must be seen, the picture does not do it justice!!


JUNIPER BRUSHED TURNING TWENTY 70X86

Brushed soft cottons in a Christmas palette. 70"x86"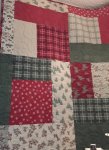 JUNIPER BRUSHED TURNING TWENTY LAP

Brushed soft cottons in a Christmas palette. 54" X 54"



Out of Stock
JUNIPER BRUSHED TURNING TWENTY TWIN

Brushed soft cottons in a Christmas palette. 70"x 70"



Out of Stock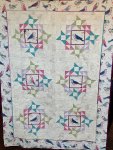 NESTING

50 1/2" X 70" Includes Pattern, Bonus Pattern & Binding