ATLANTIC TOTE

Huge woven fabric strip tote. 2 1/2" precut friendly.


BALTIMORE GARDEN RUNNER

Fusible appliqued table runner


BECAUSE OF THE CROSS

Small wallhanging depicting the cross.


BEYOND THE STARS RUNNER

Even though it was written as a runner, you could make extra blocks for a striking topper or a whole quilt!


BITS & PIECES

The center block is the perfect showcase for a special print or embroidery design.


BLACK CAT IN WITCH'S HAT

A cat with witchy attitude!


BQ2

Also known as Big Quilt 2, this is easy quilt for showcasing those, hard to cut up 'cuz they're so, beautiful fabrics.


CHATELAINE MULTI-FEATURED WALLET

A very versatile wallet/purse.


EASY PEASY 3 YARD QUILTS

Assorted easy quilts using only 3 yards of fabric.


EXPLORE THE PATH

ANOTHER of Carol's faves! Is it the unusual layout? or the fabrics in the sample? All of the above!


GONE SCRAP CRAZY

A coordinated scrappy quilt, using Creative Grids Scrap Crazy Template Set.


GRUNGE LOVE TABLE RUNNER CLUB

BK GRUNGE LOVE TABLE RUNNER CLUB


HEARTBEAT OF AMERICA

Show your spirit by making this pattern as a wallhanging or make a baby chevron quilt.


IN THE BEGINNING

Stained glass chevron look.


JELLY ROLL RUG

Popular pattern. A new take on the oval rug you grew up with.


LAND OF LIBERTY RUNNER PATTERN

Make a patchwork patriotic table runner for your summer table!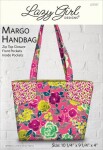 MARGO HANDBAG

Such an easy to sew purse, & the zipper goes in like a piece of cake!!


MARIPOSA WALLHANGING OR RUNNER

Add dimensional curves to a project with Southwind designs unique method!


MODERN VIEWS WITH 3 YARD QUILTS

Assorted quick & easy quilts from 3 yards of fabric.


MSQC BLOCK MAGAZINE VOL 7 ISSUE 4 2020

An idea packed magazine straight from Missouri Star Quilt Company & Jenny Doan.


MY 2 BABY SISTERS PLACEMATS

New to paper piecing? Great beginner pattern.



Out of Stock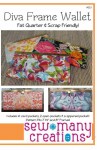 PAT DIVA FRAME WALLET INCL METAL FRAME

Easy enough for a beginner!


PATCHWORK PATRIOTIC TABLE RUNNER

Show your patriotic side with this great pattern


QUICK SWITCH REVOLUTION STARRY NIGHT

If you have a panel & don't know what to do with it, this pattern gives you 3 options!


QUILTS IN A JIFFY, 3 YD QUILTS

More great designs from Donna Robertson!


RIGHT ON POINT RUNNER

Easy runner! Great for featuring that "I hate to cut it" fabric, or some embroidery.


SLICE OF LIFE

That summer lattice look. Perfect with light florals on your sunporch.


SPLIT DECISION

A jelly roll pattern suitable for beginners.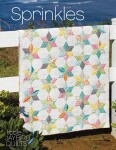 SPRINKLES BABY QUILT

Create this fun baby quilt with 2 1/2" strips and the Sidekick Ruler.



Out of Stock
STAR CRAZY 8

Exclusive sewposium pattern.


STAR PETAL TABLE TOPPER

This is a stunner! Rainbow, Christmas, Ocean colors so many possibilities


STRIPOLOGY SQUARED BY GE DESIGNS

BK STRIPOLOGY SQUARED GE DESIGNS


TEA TOWEL APRON PROJECT SHEET

PAT, TEA TOWEL APRON PROJ SHT


THE GREAT QUILTING ADVENTURE RUNNER

An easy little runner. Great for gift giving & lots of different color combos.


TRIANGLE FRENZY WHIRLWIND

60 degree triangle ruler pattern


TRIANGLE SQUARED

Carol's favorite!! The cover photo was featuring Kim Diehl fabrics. Just beautiful!


TWISTING WITH THE STARS

Pre-cut friendly. Fun pattern for a more advanced quilter.


UNIQUELY MATHILDA PILLOWS

PAT, UNIQUELY MATHILDA PILLOWS


VIVE LA TOTE BAG

3 different totes. 2 1/2" precut strip friendly!


WALK ABOUT

PAT WALK ABOUT QUILT