6 PACK

A versatile pattern for a nice size lap quilt. Great stash buster!


BECAUSE OF THE CROSS

Small wallhanging depicting the cross.


BEYOND THE STARS RUNNER

Even though it was written as a runner, you could make extra blocks for a striking topper or a whole quilt!


BITS & PIECES

The center block is the perfect showcase for a special print or embroidery design.


EXPLORE THE PATH

ANOTHER of Carol's faves! Is it the unusual layout? or the fabrics in the sample? All of the above!


GRUNGE LOVE SIMPLY MADE

BK GRUNGE LOVE SIMPLY MADE


GRUNGE LOVE TABLE RUNNER CLUB

BK GRUNGE LOVE TABLE RUNNER CLUB


HEART SONG TABLE RUNNER AND PLACEMATS

Seasonal Bargello runner & placemats



Out of Stock
HEARTBEAT OF AMERICA

Show your spirit by making this pattern as a wallhanging or make a baby chevron quilt.


LAND OF LIBERTY RUNNER PATTERN

Make a patchwork patriotic table runner for your summer table!


MARIPOSA WALLHANGING OR RUNNER

Add dimensional curves to a project with Southwind designs unique method!


PATCHWORK PATRIOTIC TABLE RUNNER

Show your patriotic side with this great pattern


QUICK SWITCH REVOLUTION STARRY NIGHT

If you have a panel & don't know what to do with it, this pattern gives you 3 options!


QUILTS IN A JIFFY, 3 YD QUILTS

More great designs from Donna Robertson!


RIGHT ON POINT RUNNER

Easy runner! Great for featuring that "I hate to cut it" fabric, or some embroidery.


SLICE OF LIFE

That summer lattice look. Perfect with light florals on your sunporch.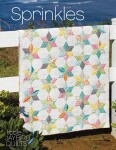 SPRINKLES BABY QUILT

Create this fun baby quilt with 2 1/2" strips and the Sidekick Ruler.



Out of Stock
STRIPOLOGY SQUARED BY GE DESIGNS

BK STRIPOLOGY SQUARED GE DESIGNS


THE GREAT QUILTING ADVENTURE RUNNER

An easy little runner. Great for gift giving & lots of different color combos.


TRIANGLE SQUARED

Carol's favorite!! The cover photo was featuring Kim Diehl fabrics. Just beautiful!


WALK ABOUT

PAT WALK ABOUT QUILT


WALKWAYS

Wondering what to do with that panel you bought? This is the pattern for you!