ATLANTIC TOTE

Huge woven fabric strip tote. 2 1/2" precut friendly.


EASY BACKPACK

These easy to sew string backpacks are all the rage!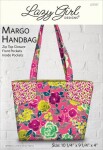 MARGO HANDBAG

Such an easy to sew purse, & the zipper goes in like a piece of cake!!



Out of Stock
MINI BOW TUCKS BAG

Versatile easy to make purse.


SEW-ER'S COMPANION

A versatile pattern by Millcreek Sewing & Fabrics own Kay Buffington!



Out of Stock
TRENDY TOTE

Fast & easy!



Out of Stock
VIVE LA TOTE BAG

3 different totes. 2 1/2" precut strip friendly!